Today we continue to Paro in Bhutan. We are very curious about this country. Getting a landing permit for Paro was already a project in itself. The airport is very restrictive and has many prerequisites. There are two variants. You either take a "navigator" on board, who leads you through the valley, or you complete a special training that qualifies you for the landing. Unfortunately we have no space for a navigator on board, so we had no choice but to do a special training for Paro. But first find someone who can do us this training. Arnim Stief an experienced pilot and instructor is the only one in Germany who is allowed to do this training. He introduced us in detail and Paro accepted this training. So we had taken the first hurdle. With the completed special training, we then received the landing permit after about 3 months. For a specific day and time: -)
We were worried that on our flight day, the weather could be a show-stopper. Paro is an airfield that can only be approached VFR. If the cloud layers are too low ... you can not land. The runway is located in a deep valley between high mountains and in the final approach there are obstacles. An instrument approach is therefore not possible. The weather forecast was borderline. It was a 50/50 chance that it will work. We flew off. We can still turn around when the weather should get worse.
We were lucky. When we were near Paro, the clouds just opened and we were able to use a "hole" in the clouds to dive into the valley.
After landing, our guides have already expected us. Paro does not allow individual tourists. You get a guide and a driver for the duration of your stay. It is a combination of care and assurance that you only stay on the routes that are "allowed". With the guides we then discussed the program for our stay. Thimphu on the first day and Tiger's Nest on the second day are on our wish list.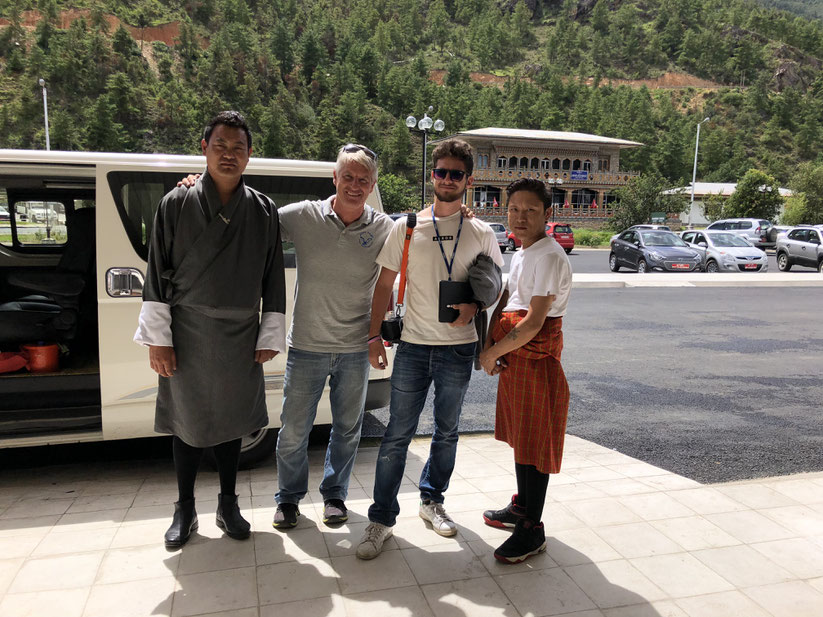 Bhutan is a small country in the mountains. It has just over 700,000 inhabitants. Surrounded by India and China. It has developed a special status in this region and could be compared to Monaco. The country is trying to go another way with exclusive tourism. It is noticeable that everything is even more original but also cleaner and better organized.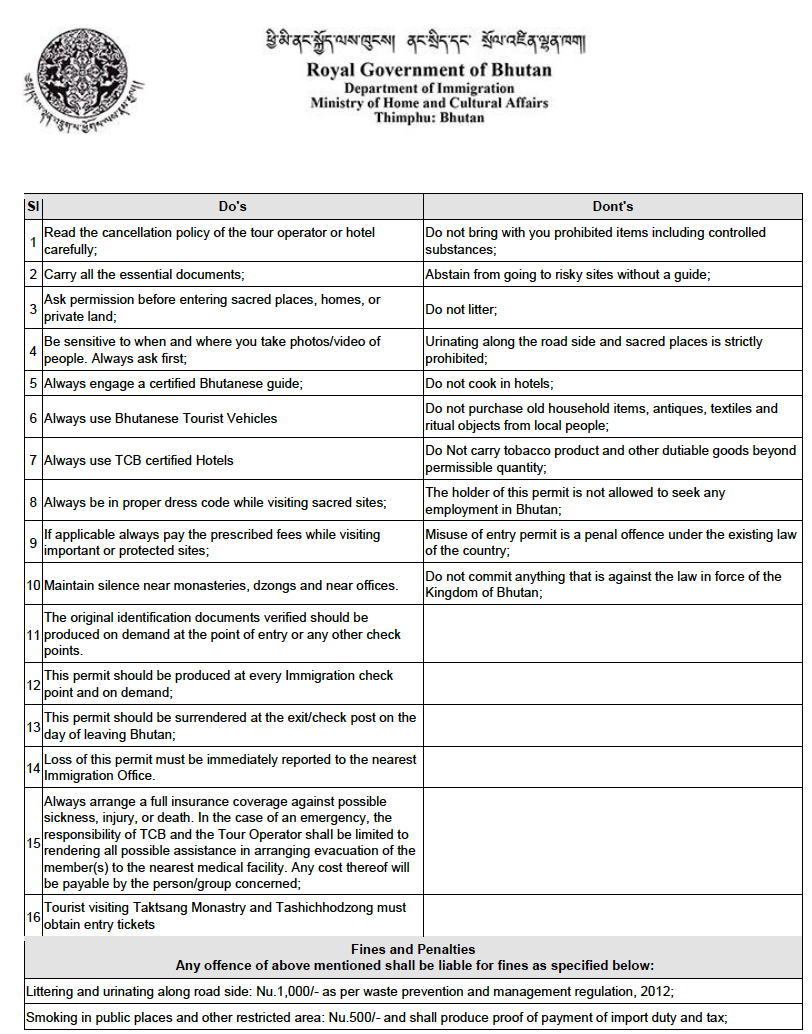 National sport is archery. We were lucky that a local competition took place in Thimphu that day. Our guide just took us and we could admire the shooting arts.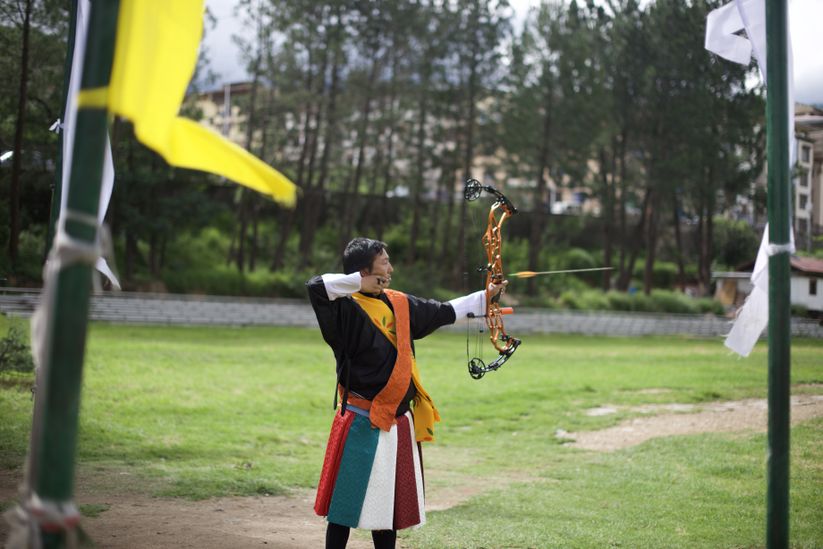 For each hit the shooter gets an extra cloth tied around the belt and his team dances every hit a "hit dance" :-) From 500 ft to see the goal at all is already an art ...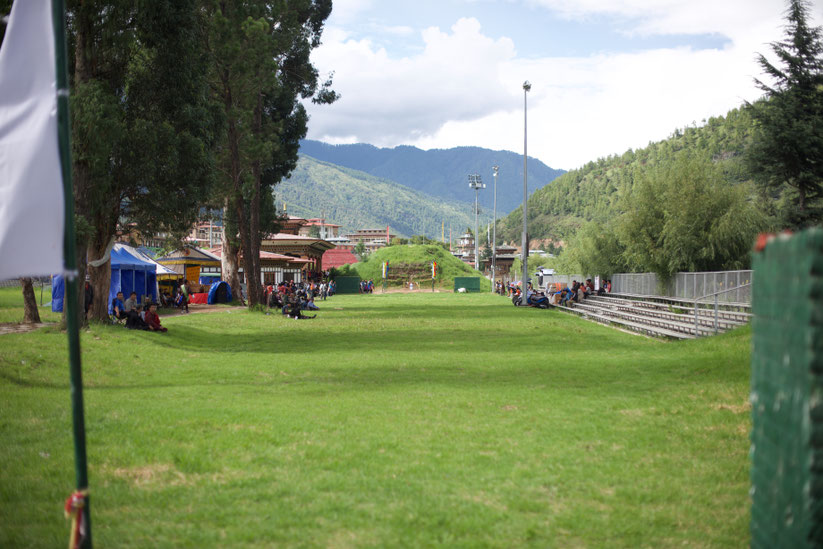 When we passed this poster, we asked our guide if they were a local actors and that was the ad for the series / movie. He looked at us quite irritated and said that this is the royal couple. Oops ... a faux pas ... We hope, we are still allowed to come back ;-)
Pretty couple by the way.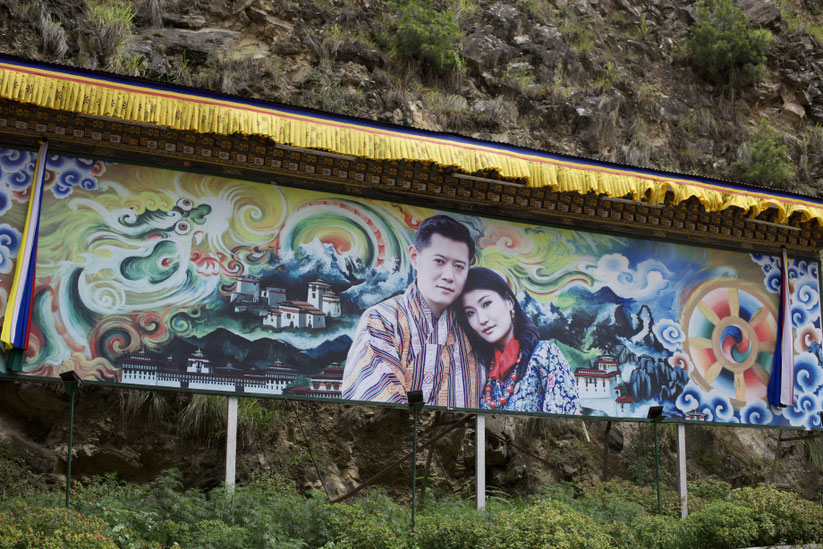 A big donor from Singapore has financed the construction of one of the largest Buddha. The construction is about to be completed. A new attraction for Thimphu.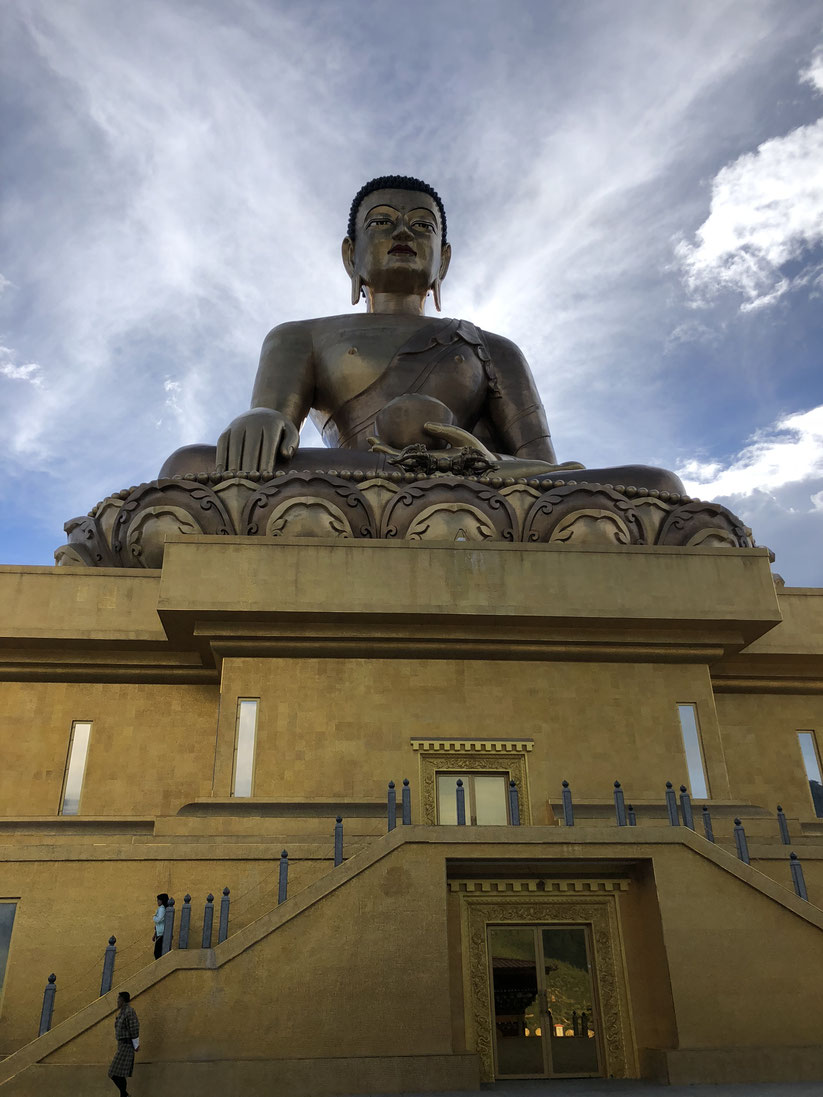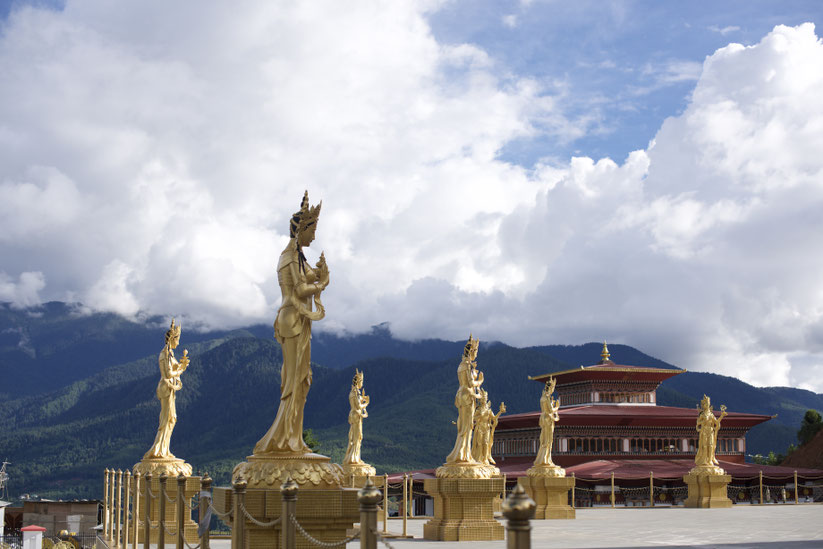 There are no old people's homes in Bhutan. Older people are driven by their families to the temples in the morning. There they have social connection and can pray. In the evening it's back home. You can see many older people at the temples.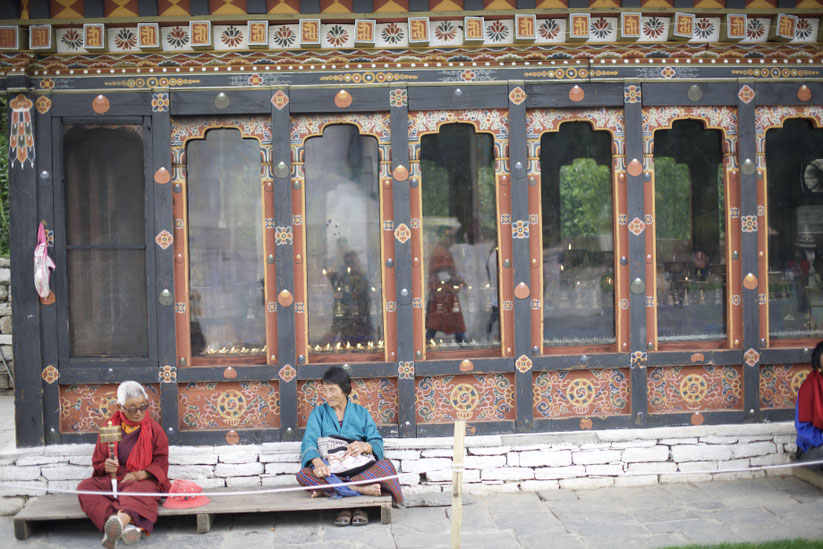 The next day we want to Tiger's Nest. It is a monastery that was built into a rock and is considered a spiritual center of the Buddhists. It is a steep climb from 2,700 m to 3,100 m with many steps. Uphill and Downhill. After 2 hours of sweating we made it. Fascinating how humans managed to create this building at this height.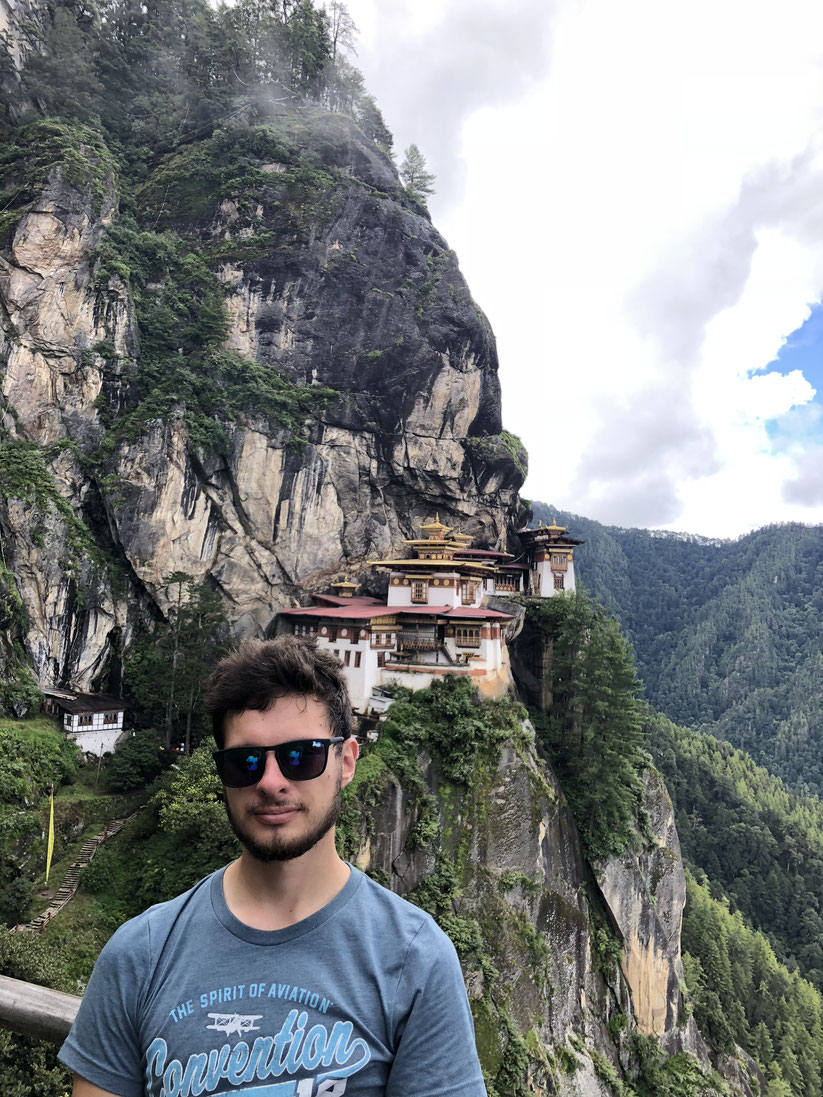 Our guide uses a picture to explain the basic principles of Buddhism. At the core are the 3 spirit poisons, represented by 3 animals:
The pig for ignorance,
the rooster for greed and the
Serpent for hate.
The antidotes are:
wisdom
generosity
kindness
A nice triad! We are going to take more antidote :-)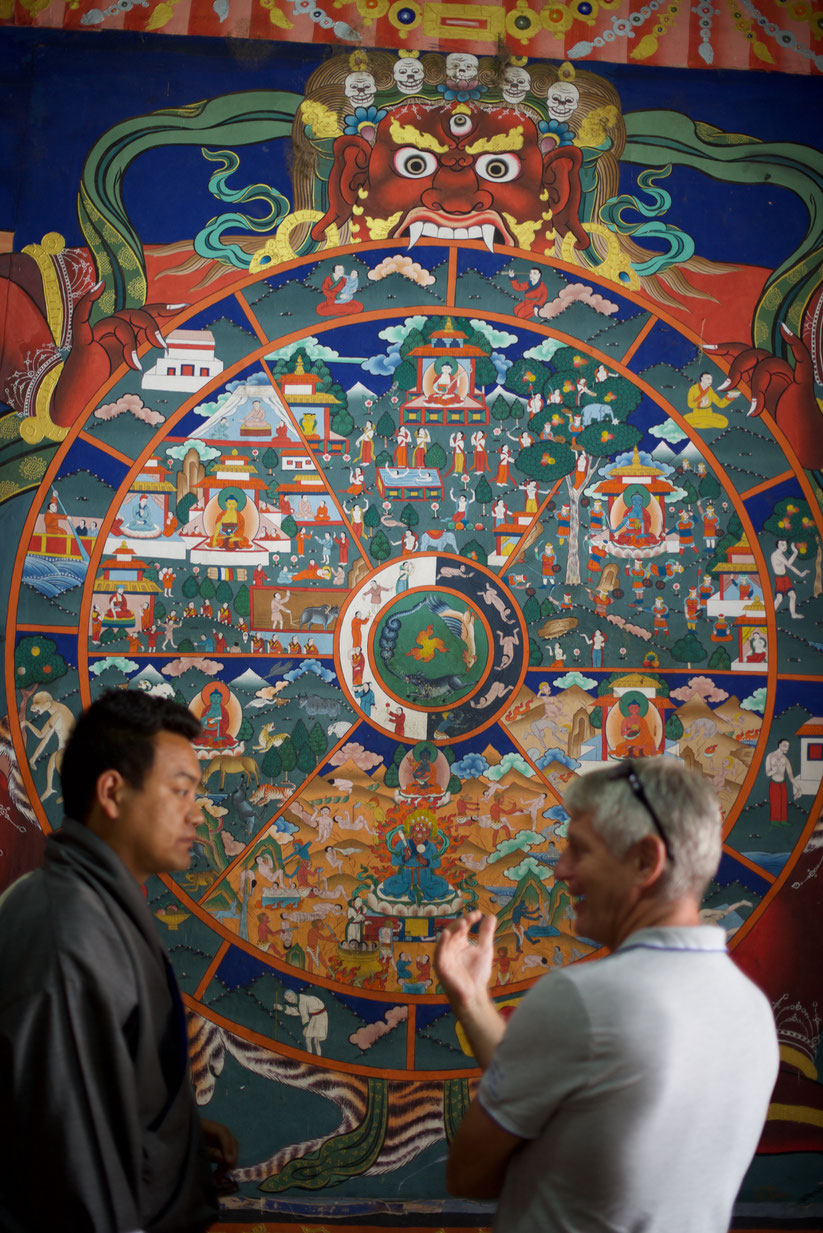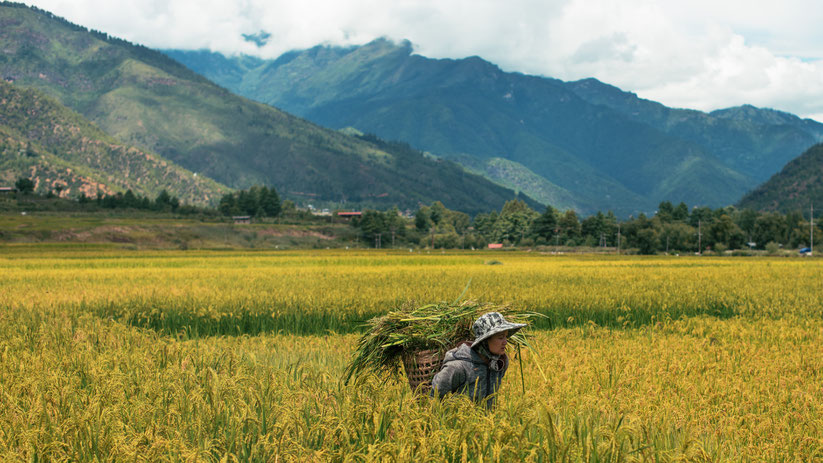 We liked Bhutan a lot. But it's be time to fly on. Today Nepal is on the program with Kathmandu. Topping off quickly and we're off to the next destination.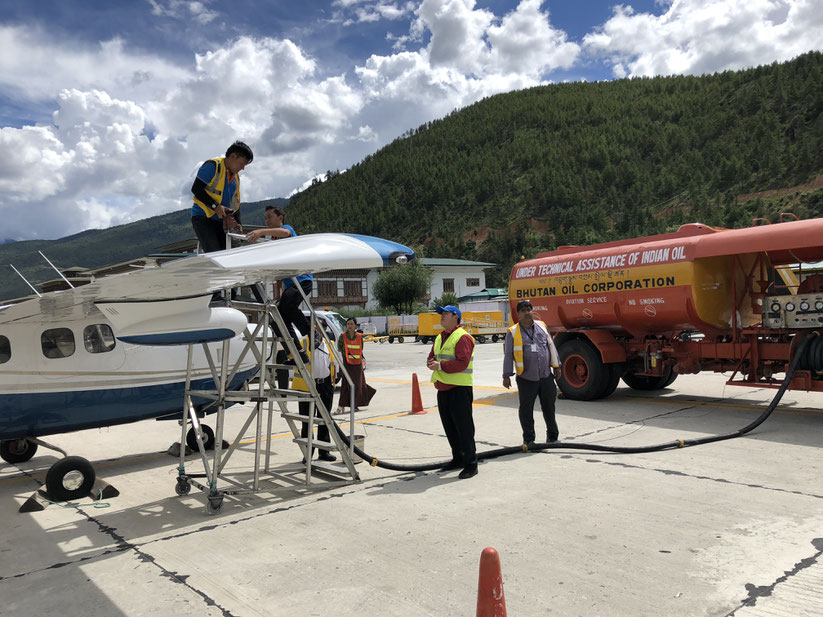 Airbusses are also landing at this airport. Impressive, how low the pilots fly over the obstacles!